The Brief
Create a completely new and exciting team-building experience for a senior team of 50 delegates who have just completed 2 very full days of meetings. Build trust, deeper relationships and enhanced communication while looking forwards – the theme: "How to be MASTER BUILDERS for the FUTURE…!"

The Event
ROBOT
REVOLUTION had debuted just weeks before – fresh out of the creative oven so to
speak – and was the perfect fit for both objectives and theme. Teams were
charged with assembling their own robots, their own race tracks and competing
in a final team vs team challenge.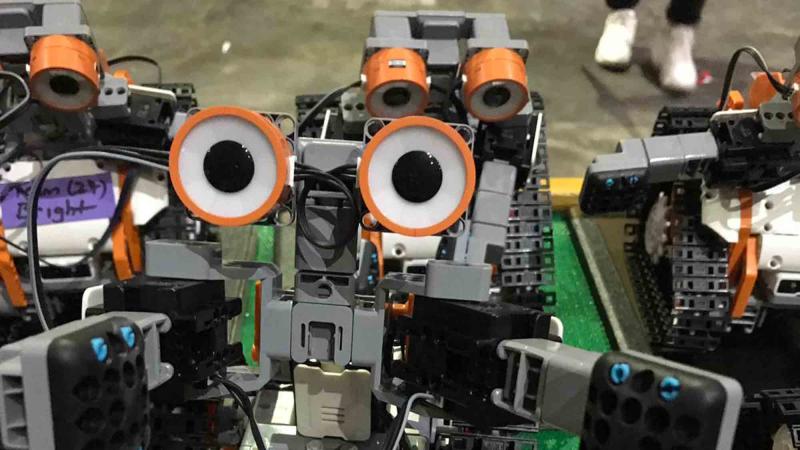 What happened?
After lunch on their final meeting day, the EY delegates returned to their meeting room to discover their regular set-up was replaced by robot-building stations & creative course-building materials. After a brief context on the world of robotics and their new role as "MASTER BUILDERS of the FUTURE", teams set about the dual roles of building robots AND building a TRIALS COURSE.
2 or 3 team members assembled each robot following step-by-step graphic instructions on the iPad provided, which also served as the programmable robot controller upon completion.
Meanwhile, hidden in a "vault" outside the main room was the final course upon which the robots would need to go through their paces – completing up to 5 individual trials in a very limited time. Each team was allowed only limited access to view this course and make as accurate a copy as possible on which their team could practice with their finished robot. Effective planning, crystal clear communication and attention to detail were essential.
Finally, teams went head-to-head in the arena – racing through the final trials on adjacent tracks as the countdown blasted – where only ONE robot could emerge as the ultimate winner.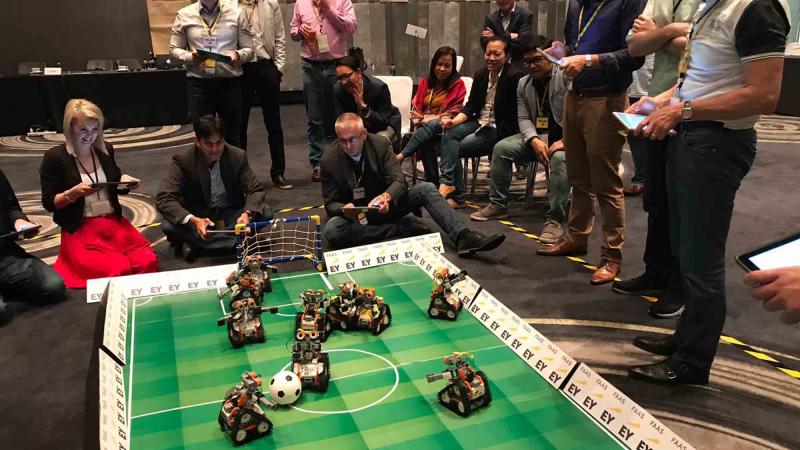 A Twist in the tTale!

As the grand finale to a tough couple of days, we wanted a rather different and purely fun finale to the entire experience. All the robots had been given a simple decorative element in one of the 2 EY colors. These now became their FOOTBALL jerseys – as the group divided into 2 teams for the EY robot world cup.
As the teams managed a quick practice "kick-about" with the footballs provided, the robot-sized football pitch was unveiled – complete with goals, side barriers, penalty spots etc. What followed was hilarious comedy as the teams battered the balls back and forth and the robots battered each other. Whether relief at the end of the conference or the free-flowing wine and beer, it was hastily agreed that this was the perfect way to continue building connections and letting off steam at the same time.