OK – we are well over a year into lockdowns, circuit-breakers and working from home. Are you still waiting to run that next company event face-to-face - because that's how you've always done it? And that's what everyone loves?

I have 5 great reasons why not only is a VIRTUAL event a MUST-HAVE for 2021, it could also be the smartest investment you'll make this year. And why doing NOTHING may carry a cost you WON'T want to bear.
Organizing even a small off-site meeting can be a laborious process. Sourcing for location, venue, transportation, lunch & coffee break menus… All before even approaching the real content of your session.
With virtual team engagement, your pre-event preparation pretty much begins and ends with finding the best vendor and most suitable activity. Talk through the options, make sure any activity addresses your objectives and, if possible, test out the activity for yourself.
All that remains is for you to choose a time and send out that meeting invite for the video conferencing platform of your choice.
2) Virtual teambuilding offers great value in terms of ROI.

Having removed all your venue, transportation and catering costs, your overall budget is immediately slashed. What's left can be levelled squarely at the content and delivery of the team activity itself.
With their own savings on transportation, equipment and logistics, activity providers will often offer virtual team events at much lower prices than their face-to-face equivalents. That said, not all virtual events are created equal, and some of the most highly impactful virtual events may have hundreds of man-hours invested in development.
With almost 100% of your event budget going into the activity, your ROI will clearly be much higher. But bear in mind you DO get what you pay for. Since your ROI now rests on the activity itself, investing in a GREAT virtual event vs. an OK virtual event will REALLY pay off in the long run.
3) There's so much Teambuilding to choose from!

After a year of lockdowns, game designers and teambuilders have had plenty of time to develop activities. In April 2020 you would have struggled to find 2 or 3 alternatives for a virtual event. In 2021 there are literally hundreds of options available.
From the simplest slide-sharing activities to purpose-built APPs or online gaming platforms to rival the top video game titles. There's now a solution for almost every teambuilding objective or budget.
Choosing the right option can depend on many factors including:
your theme or objectives
your time constraints
your team's demographic (e.g., age, function, seniority)
your team's level of technical readiness (are they comfortable on a virtual platform / can they use an APP/control a videogame etc. – this is often linked to the point above – millennials and boomers typically don't use tech in the same way!)
We created a simple graphic to illustrate how this last point impacts your choice: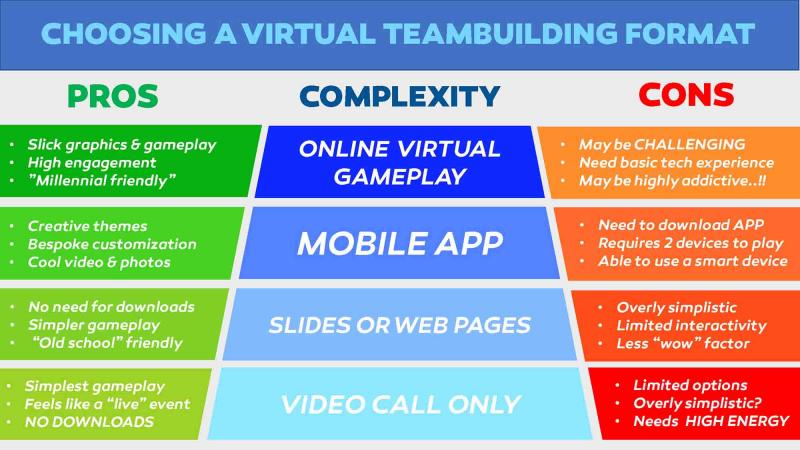 4) Virtual Teambuilding can be Amazingly Impressive and Effective!

The early adopters who first brought solutions to market in April 2020 have had over a year to develop, refine and expand on those early concepts. As a result, there are legacy events that have evolved consistently throughout and a few new events that bear the fruit of such evolution.
The perfect example for me would be The Infinite Loop Online – from Agence Synergy in Tunisia, one of our partners in the Catalyst Global Teambuilding network.
Evolution of a Market Leader

March 2020 – As the Covid-19 pandemic first took grip across the globe, The Infinite Loop was already the #1 best-selling teambuilding activity with Catalyst partners worldwide. A ground-breaking hi-tech team activity using Oculus VR headsets to create a powerful learning experience around communication, leadership and agile thinking.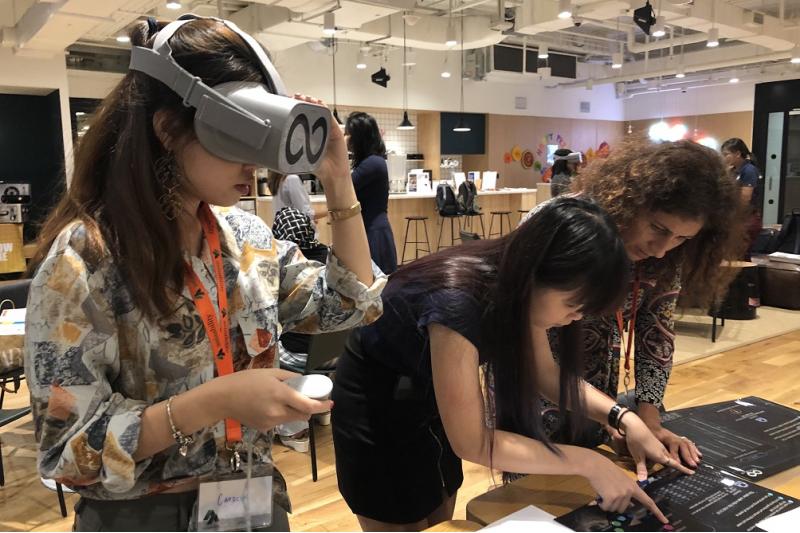 April 2020 – With 50 Catalyst partners in over 90 countries screaming out for VIRTUAL activities, the developers at Catalyst Tunisia worked like demons to produce an online version of the game. Et voila – The Infinite Loop Online, a star is born. One of the first "real" virtual events to hit the market would also be one of the best. Each player has access to browser-based "live-action" team gameplay with rotating roles – for a truly immersive, effective & fun team learning activity.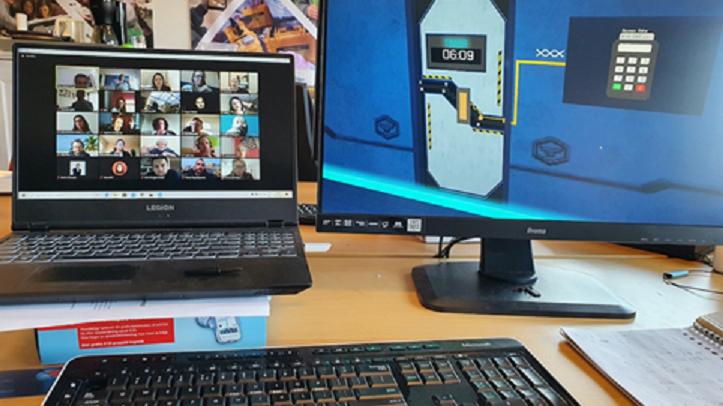 May 2021 – Over 6,500 teams have already played the game when we see The Infinite Loop Online (TILO) version 3 – with a completely new interface, shockingly rich graphics and even simpler and smoother access. Add some in-built company branding and you have as slick and impressive a virtual team building activity as anything you could hope to find in the real world.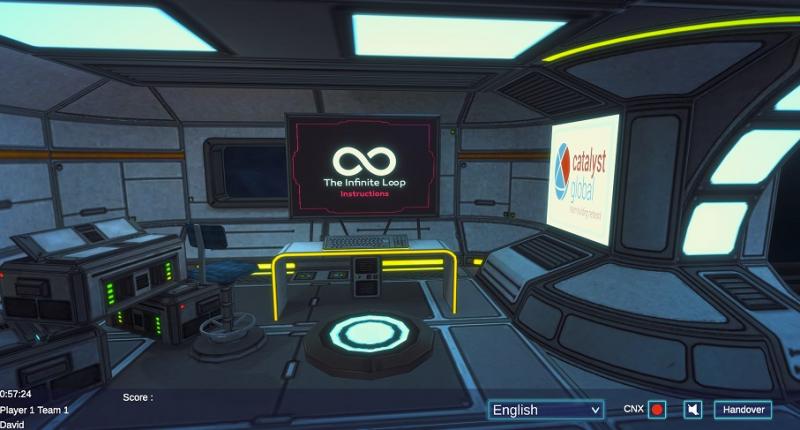 OK – so there are some really cool options for virtual team building out there, it's incredibly easy to do and it's great value for money... But do we really need to? Can't we just wait till everything opens up again and we can run our usual in-person events?
Well, I'd have to say "NO" – and here's why…
5) Engage! Engage! Engage!
We may be getting used to the "new norm" of working from home. But the adverse impacts of working from home on mental health and well-being are already being seen and studied.

A 2021 survey by the UK's RSPH (Royal Survey on Public Health) found that 67% of those working from home reported feeling less connected with their colleagues. In his 2020 Forbes article, "The Science Behind Managing Virtual Teams", Andrew Mawson points out that,
"When a team moves to a more virtual model unless there is an investment in encouraging friendships and social cohesion, the bonds that make organisations work may weaken."
It's also incredibly easy to let the stresses of work spill over into home life. In the same RSPH survey, 56% of respondents found it hard harder to switch off at home.
Add to this the crushing blow being dealt with team morale every time restrictions are reintroduced. The recent resurgence of Covid-19 cases in Singapore, Malaysia and Thailand have seen exactly this as recovery plans are dashed.
We need to engage and connect team members AND the company. If we do nothing to take care of our teams, we're really letting them down.
As GALLUP stated in published research (interestingly just before the pandemic hit) "Engagement is not an exercise in making remote employees feel happy -- it's a strategy for better business outcomes… engagement isn't a perk for leaders to dole out, it's a way leaders can improve KPIs."
In a recent survey of 1000 Americans by TELUS International, more than three-quarters (78 per cent) believed that corporate learning and development programs are important in this time of the pandemic, but 25 per cent say they have not learned anything new since remote work started.
And in the same study, a whopping 80% of remote workers said they would consider quitting their current position for a job that focused more on employees' mental health.
If that doesn't make you think… it should!
Get in touch with us for more information on engaging your team with a dynamic and purposeful virtual team building here. No matter where you are, and how many continents your team spans, we can support you with localized facilitation through our Catalyst Global Teambuilding network.